DO CARRIER
ISSUES TAKE UP
too much time?
When you have a problem with your data or voice service, it can mean hours—even days—of phone calls, emails, and troubleshooting for your team—time you don't have. And if your offices span cities, states, or countries, then you have multiple carriers, vendors, and contracts to manage. No simple task.
Benefit From Our Carrier Relationships
Our long-standing, executive-level relationships with carriers and vendors gives us direct, dedicated access to top level technicians. Standard escalation paths are circumvented, expediting service restoration. When an issue arises, simply contact us—you have a single point of contact for all carrier-related issues.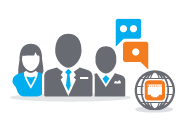 Our team works with carriers on your behalf.
We resolve service issues 24/7/365.
Our IT expertise, carrier relationships, and unwavering sense of urgency make us uniquely qualified to take the burden of issue resolution off your hands. Whether you choose Splice for telecom services or you keep your existing service provider contracts in place—we work directly and proactively with carriers and vendors to open, manage, and close service tickets on your behalf.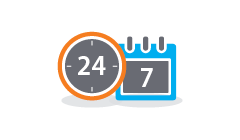 Count on quick resolution.
| | | | | |
| --- | --- | --- | --- | --- |
| Criteria | Priority 1 | Priority 2 | Priority 3 | Priority 4 |
| Service level objective | Outage | Degraded service | Quality issues | Information requests |
| Issue examples | Circuit is down; degraded service bandwidth or access | Partial use of service; intermittent problems and quality issues | Prefix updates; DNS requests | Carrier equipment access request; test assistance |
| Ticket creation time | 0–15 minutes | 0–25 minutes | 0–35 minutes | 0–60 minutes |
| Status updates | Every hour | Every 2 hours | Every 4 hours | Every 12 hours |
| Maximum resolution time | HOURS | HOURS | HOURS | HOURS |
Open a ticket in seconds.
Requesting a service ticket is quick and easy. Simply call or email us, or visit your personalized portal—Splice Customer Connect—and request a ticket online.

Splice executives are apprised of all Priority 1 issues.
Get updates any time.
With Splice Customer Connect—your personalized portal—the latest information about incidents is always at your fingertips.
Network provisioning, with dedication and speed.
Whether you need network provisioning for a new installation or you need to add, move, change, or disconnect all or portions of your current network infrastructure, simply turn the task over to our team of experts and we'll work with your carrier to get the job done.

We assign a project manager to every provisioning job—a seasoned IT professional who understands both the technical and the procedural sides of network provisioning
Provisioning Services
We approach provisioning with precision and speed.
Count on a proven process.
Our proven process enables us to complete provisioning projects an average of 14 days faster than carriers do.
Project Management

Installation Type

Initiate a new installation
Move, change, disconnect an installation

Issue Resolution

Escalate and manage issues

Status Information

Real-time updates, scheduled reports
Carrier Management

Milestones

Order entry
Engineering review
Site survey
Installation and testing

Communications

Regularly scheduled conference calls
We Provide More than Circuits, We Provide Solutions
We'll assess your data networking requirements and design a customized solution to meet them. Whether you need a simple high-speed connection for email and file transfer or an ultra-fast connection with scalable bandwidth for your enterprise, we'll deliver the right solution for your business.
Contact us
Data Services
When you choose Splice, you receive cost-effective connectivity backed by 24/7 support.
The synergy of shared goals
Our allegiance lies with you—not with individual carriers and service providers. As a result, we bring an unbiased viewpoint to every engagement—a level of objectivity that brings a rich and diverse set of options to the table, for your consideration.
Data Services

Direct Internet access
Private line
Multi-protocol Label Switching (MPLS)
Additional Services

Voice and web conferencing
Structured cabling services
NOC and provisioning services included
Learn More About Our Carrier Management Services
Have questions?
Don't hesitate to contact us—we're happy to answer any questions you may have.
Contact us
650-577-2342